carrizo plain / gardens & villa


Looking up at the sky is one of the many signs that I am almost insignificant - I do enjoy feeling like the center of the universe, but waiting for life to pass you rushes straight to your brain until everything you do is insignificant- nor for the sake of nihilism, but for the sake of doing what makes you happy while you have the chance to be alive because it has no real impact. not only are you insignificant, but so is fear, so is loathing- if nothing means anything in the grand scheme, then why fill yourself up with unhappiness.
Looking up at the sky makes me feel surreal- I can't possibly be alive if this is changing colors and raining on nations as I'm looking up at it. I'm in the middle of reading the first surrealist novel: Nadja by Andre Breton. The beginning is very dense and kind of mundane and I'm patiently waiting for the plot to reveal itself to me.
About to leave her, I want to ask one question which sums up all the rest, a question which only I would ever ask, probably, but which has at least once found a reply worthy of it: "Who are you?" And she, without a moment's hesitation: "I am the soul in limbo"
the lisbon girls are surreal because they just
did not make sense
and i think that surrealism is somehow tied to contradiction
it has to be too complex to be understood by a direct method/
a denim jacket i tried to bleach; it didn't really work but it looks a bit like the sky now
time transfixed from a recent visit to the art institute
Magritte is one of my favorite surrealists- maybe because he uses the sky so often- and I was really happy when Opening Ceremony came out with a Magritte-inspired collection, and described it as "wearable art".
sheherazade dress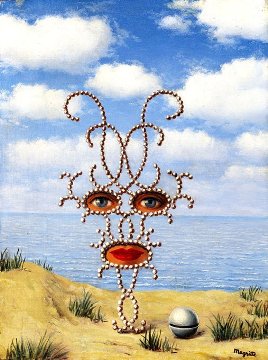 the king'ss museum coat
good connections top
the blow to the heart sweater
la cascade bomber jacket
ladder of fire sweater
I really loved the constant references to the lovers and how the photographer used blue and white and shadows to kind of mask/distort the models' bodies. I would say the stuff inspired by sheherazade is my favorite because I really like how detailed and vivid it is- and I also love the shape of the good connections outfit.
the fabric covering the heads of the models is also kind of reminding me of a combination of commes des garcons (for the almost-grotesque and the white) and a margiela mask.
What do you guys think of all this-the art and the clothes- and (if you'd like to share) how were your days today?
Opening Ceremony Photos via